Mats
Troy Barbell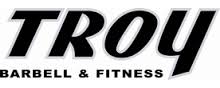 For more than 20 years Troy Barbell has been the industry leader in quality and innovation.

More than just a free-weight manufacturer, Troy Barbell is a full-service solution.

With 3 distinct product lines,Troy offers the best solution for every application:
Troy- Engineered to offer unmatched aesthetics and durability Troy is
the premium institutional & commercial grade free-weight product.
VTX- Rugged quality designed for vertical, specialty fitness and functional
training applications.
USA- Dedicated to providing best-in class products for the home fitness enthusiast.
Whether you're looking to outfit a gym, apartment, school or home, Troy delivers stylish durability and value with three distinct product lines each uniquely engineered for your specific application.
Call for special pricing!

The USA SPORTS E-MAT is the perfect addition to any home gym. With the Tri Fold feature it is compact enough to store when not in use and the built handles make the E-MAT easy to carry. With thick padding the E-MAT is comfortable and keeps you off the floor with 1.5" thick padding and a very durable covering. The USA SPORTS E-MAT is a must have for every home gym.